Best Things to Do in Dubai
1. Al Fahidi Fort and Dubai Museum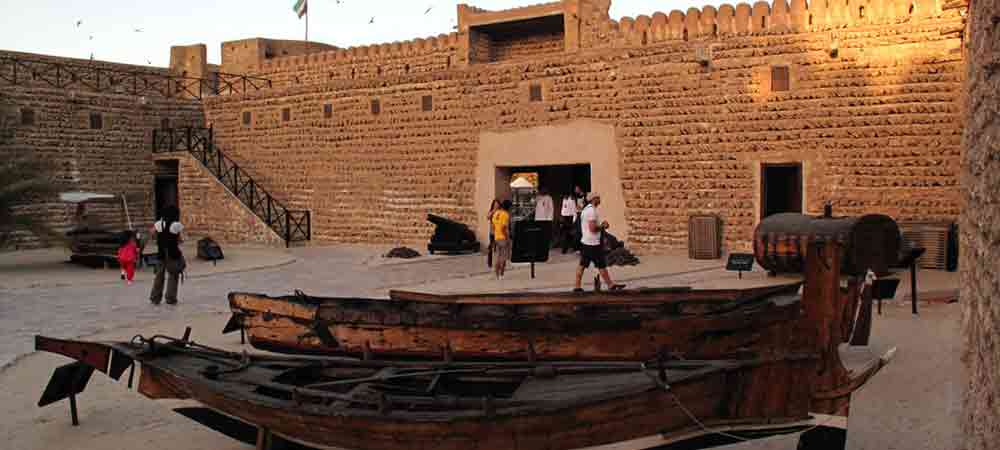 Al Fahidi Fort is the oldest monument of Dubai city and was constructed in 1800 AD. Right now this is the best place to know the inspiring history of Dubai City as it houses the famous Dubai Museum, one of the most popular Dubai tourist places. Till 1896, this fort was fortified by three huge towers and was the residential place for the local rulers of Dubai.
Here, visitors get to know how Dubai got transformed from a small fishing and pearling center to one of the main centers of global business, the fashion world, and tourism. There are video shows that display the important events of Dubai between the period 1930 AD and 2000 AD. The exhibits include artifacts that were found during excavations. This museum also showcases the lifestyle of Bedouins living in deserts. One of the museum rooms displays how the entire region got transformed after oil got discovered here. This fort got declared as a museum in 1971.
Timings: 8 AM to 8:30 PM (Saturday to Thursday) and 2:30 PM to 8:30 PM (Friday)
Tips for Travelers
The ticket price for adults is AED 3 and for kids is AED 1 (below 6 years)
You can explore the entire museum in 1-2 hours
Best For: Adults and older kids
2. Bastakiya Quarter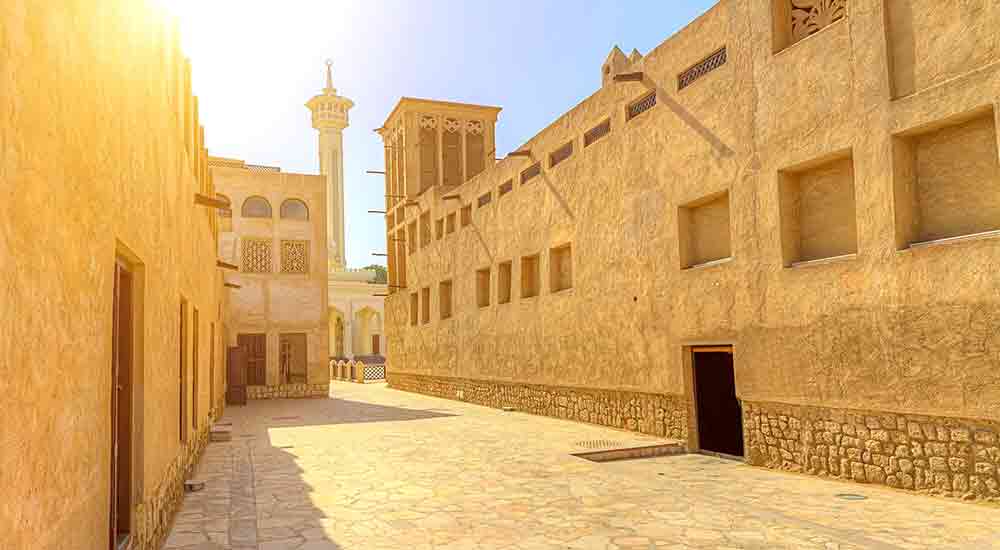 If you plan to go to Dubai sightseeing, visit the Bastakiya Quarter in Bur Dubai to get the feel and look of old Dubai. You will find this place completely different from the rest of the city. Being declared as a conserved place, vehicles are debarred from entering in Bastakiya Quarter. You can be part of the Walking Tours organized every morning at this fascinating place and go back with the splendid experience of walking through old pathways and courtyards. You must have 7 to 8 hours to spend here if you want to know more about Dubai before the oil boom and its non-stop growth as an ultra-modern city. Basta Art Café and many other galleries located here are worth visiting.
Timings: 9 AM to 6 PM
Tips for Travelers
Several museums and art galleries at the Bastakiya Quarter do not have any entry fee.
It would be best to carry some cash with you as credit cards may not be accepted everywhere in this area.
Best for: Adults and lovers of history and architecture
3. Burj Khalifa Observatory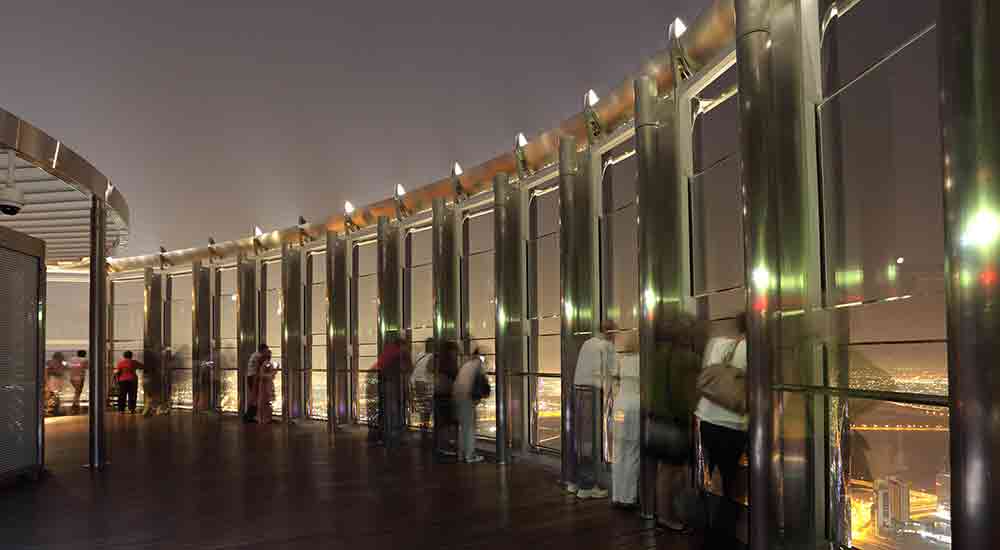 One of the most spectacular Dubai attractions is the Burj Khalifa Observatory. This is located on the 125th floor of Burj Khalifa, the highest building in the world. Entry to this observatory is through Dubai Mall and visitors will be taken to Burj Khalifa Observatory is one of the fastest elevators in the world. You can enjoy an hour or more here at this observatory and get unmatched views of the world below you.
Timings: 8:30 AM to 11 PM
Tips for Travelers
The best time to visit Burj Khalifa is during the golden hour i.e. before or during sunset. However, the tickets during this time slot are the most expensive.
Book your tickets online so you do not have to spend time waiting in the line.
Arrive 30-40 minutes before the time mentioned in your entry ticket.
Best For: Everyone
Also Read: Visit Burj Khalifa in Dubai – Story, Top View, and Sightseeing
How to Book: Best offers on Dubai Burj Khalifa! Check with Umair Travels!
4. Big Bus Tour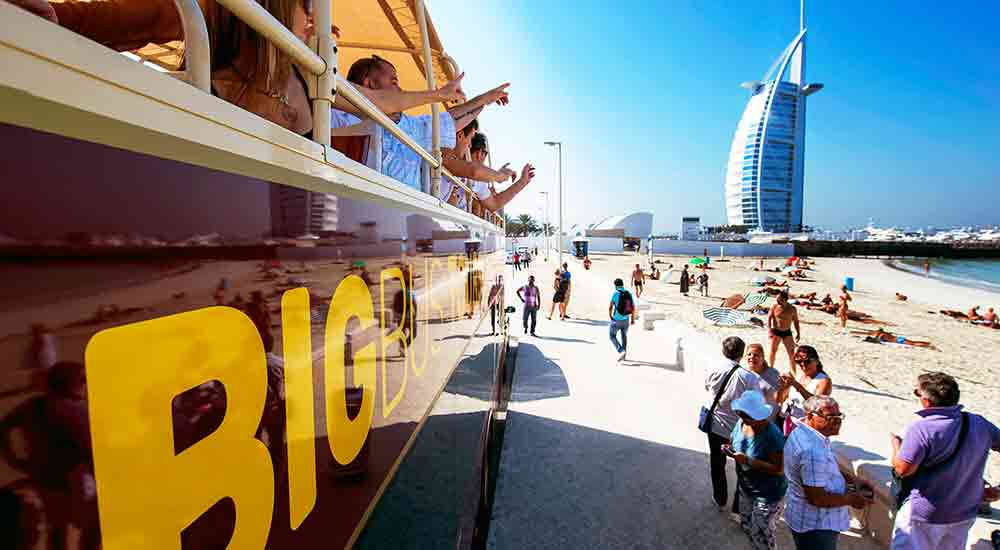 The Hop on Hop off Big Bus Tour takes you through the most important points in Dubai and updates you with the interesting history and facts behind these significant landmarks of the city. You can opt for Night Tour and the Day Tour. The tourists can opt for a 24-hour or 48-hour big bus tour. Enjoy free services with these tours such as a free Dubai Museum tour and Dhow Cruise around Dubai Creek. Tourists get the opportunity to get on and off at the bus stops as per their choices. During the night tour, an extra attraction is the sight of the illuminated skyscrapers of Dubai.
Timings: 9 AM to 6 PM (Day tours) and 7:45 PM to 10: 30 PM (Night tours)
Tips for Travelers
You get to hear a pre-recorded commentary of the places you see and visit during the tour. The commentary is available in 12 languages.
You can book your Big Bus tour online to save money and time.
Best For: Families, couples and group of friends
5. Dubai Frame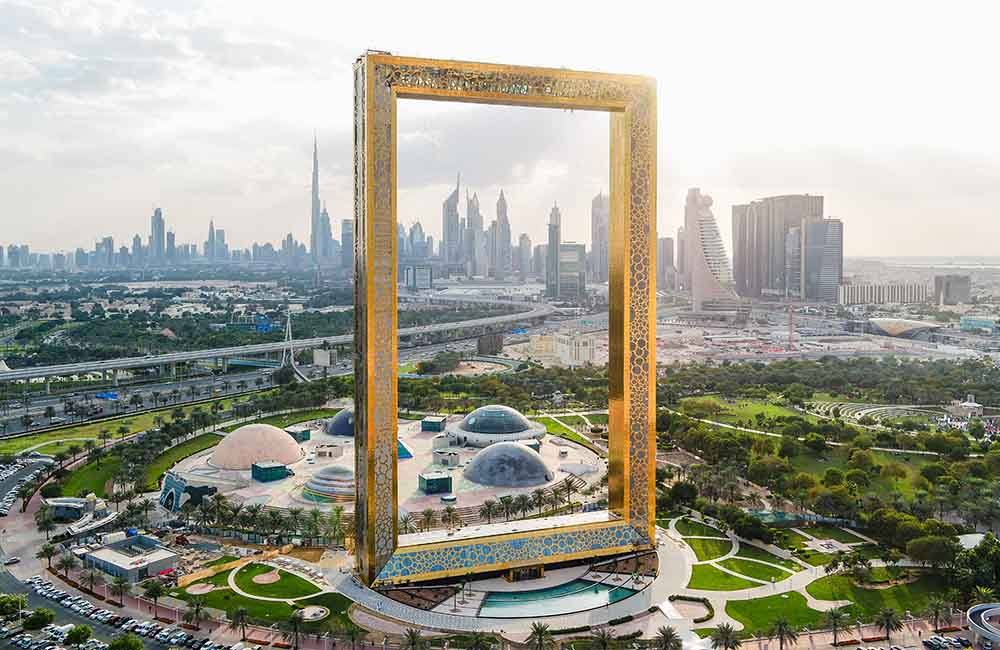 The Dubai Frame is a fabulous triumph in design, built to look like a real picture frame, only it is 152 meters tall. The two columns of the picture frame are connected to each other via a 96-meter long glass bridge that offers a 360-degree view all over Dubai. The Dubai Frame represents the transformation of the old Dubai into the glitz world capital, present-day Dubai. If you stand and face forward on the Dubai Frame's observatory platform, you'll see modern Dubai, including the Dubai Canal, the Burj Khalifa, and all the modern skyscrapers. If you look behind, you'll see old Dubai and the Bastikaya quarter. It is surely one of the best places to visit in Dubai.
Timings: 9 AM to 9 PM
Tips for Travelers
It is best to visit Dubai Frame during the daytime to enjoy the view of the various attractions clearly
You cannot carry heavy luggage or bars to the Dubai Frame. You can deposit these at the locker facilities available at the premises.
Best For: Everyone
6. Etihad Museum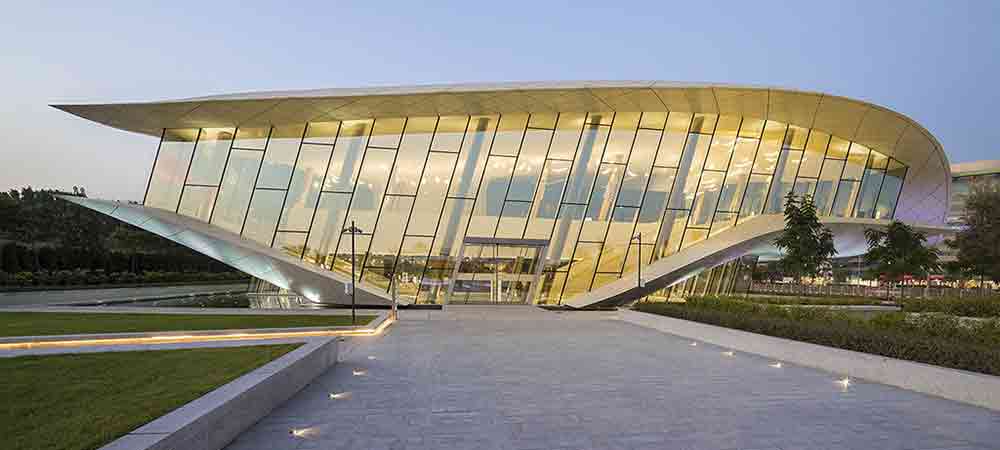 Visit the Etihad Museum in Dubai to discover the UAE's contemporary history. The museum is located in a brand new building in Jumeirah, which is a treat to the eyes. Inside the museum, you will see several interactive pavilions that depict the UAE's history with dioramas, multimedia, photos, films and more. Watch and understand how the UAE has developed from being a collection of pearl diving and fishing villages to a global tourist destination in just a few decades. Most of this development happened between 1968 and 1974, a tremendous achievement has given the shortness of the duration. Learn about the UAE's rich heritage and life before the seven emirates were unified. If you were always wondering just how come a relatively unknown region has become this popular almost overnight, the Etihad Museum will set your questions to rest. The museum is spread over 25,000 sqm and is located at Union House, a historical site as it's the very place where the UAE's new constitution was signed in 1971.
Timings: 10 AM to 8 PM
Tips for Travelers
You cannot buy the tickets to the museum online. The tickets can only be bought from the counter at the venue.
The best time to visit the museum is during weekends, as weekdays are crowded with college and school tours.
7. Queen Elizabeth 2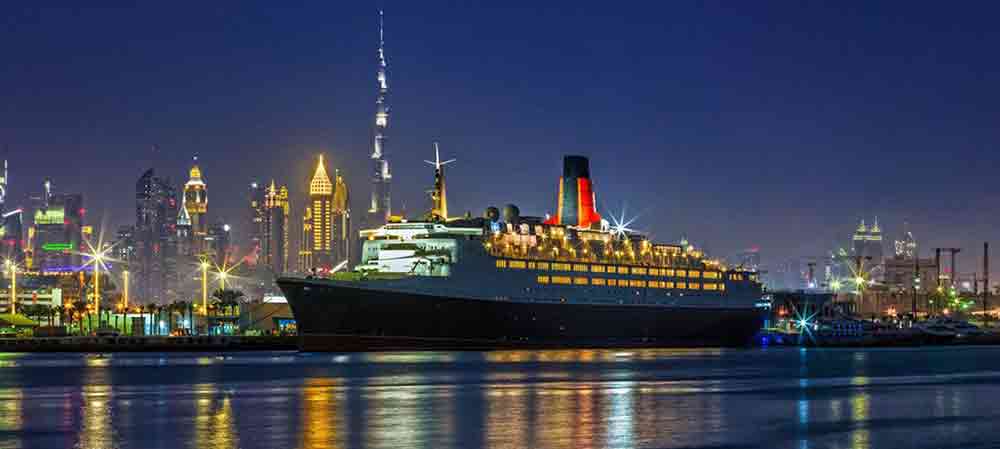 Queen Elizabeth 2, once the very toast of British heritage for over 50 years, is today an incredible 13 deck oceanic destination offering a hotel, dining, entertainment, and fun. Queen Elizabeth 2 is now permanently docked at Dubai's Mina Rashid; you can sign up for fun heritage tours of this iconic ship. Queen Elizabeth 2 used to be one of the most famous cruise ships in the world, launched in 1969. After many memorable travels between England and the US and the rest of the world, she's come to rest in Dubai. The QE2 is equipped with 13 decks of rooms, dining areas, restaurants, cafes, shopping venues, boutiques, a fabulous gym, spa, swimming pool, multiple entertainment venues and much more. Discover the legend of Queen Elizabeth 2 and introduce yourself to the wife of King George the second, after whom the ship has been named. Exploring the QE2 will be the highlight of your trip and one of the best things to do in Dubai.
Timings: Open 24 hours
Heritage Tours: 11 AM, 1 PM, 3 PM, 5 PM and 7 PM
Tips for Travelers
You can book the tickets for the heritage tours online
You can arrive at the venue by car, metro or bus
Best For: Everyone
---
8. Dubai Aquarium and Underwater Zoo
Located within the Dubai Mall, the Dubai Aquarium and Underwater Zoo are one of the largest aquariums in the world. The highlight of the aquarium is the 10 million-liter suspended tank which is home to more than 33,000 aquatic animals. The underwater zoo has some interesting inhabitants too. Apart from strolling along with the aquarium and zoo, the place also offers some amazing activities like glass boat ride, scuba diving, shark diving, etc.
Timings: 10 AM to 12 AM
Tips for Travelers
You can book the tickets to the aquarium and special experiences online to save time and money.
The place is likely to be crowded during the weekends, so try your best to visit during weekdays.
Best For: Families with children and animal lovers
Suggested Read: Dubai Aquarium & Underwater Zoo – Things to Do, Timings, Location & Tickets
9. Ski Dubai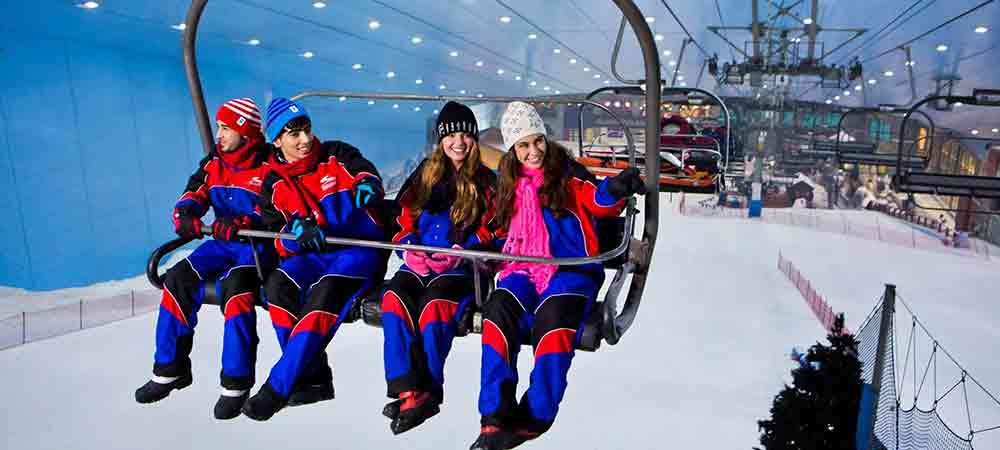 One of the most adventurous things to do in Dubai is enjoy skiing at the indoor ski resort, Ski Dubai. Apart from skiing, adventure enthusiasts can also go for tobogganing, snowboarding or simply play in the snow. This mountain themed indoor ski resort attracts visitors throughout the year. Skiing is offered for the novice ones to the most experienced skiers. Professional guides are also there to help the participants. Another winter sport, snowboarding is also quite popular at this ski resort.
Timings: 10 AM to 11 AM (Saturday to Wednesday) and 10 AM to 12 AM (Thursday and Friday)
Tips for Travelers
Skiing equipment as well as winter attire (thermal jacket, ski poles, ski boots, etc) are included in the ticket price
Although winter attire is available, you need to get your own gloves unless you want to buy them from the store.
Best For: Everyone
10. Motiongate Dubai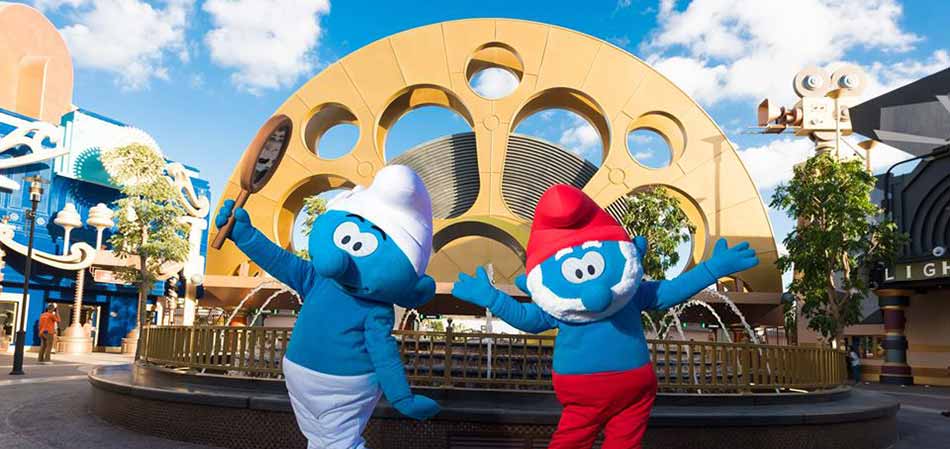 A visit to the Hollywood-studio based Motiongate Dubai is one of the best things to do in Dubai. It is a part of the Dubai Parks and Resorts and is divided into several zones that include DreamWorks, Lionsgate, Studio Central, Columbia Pictures and Smurf Village. Each of the zones has numerous rides and attractions that would keep you engaged and entertained.
Timings: 2 PM to 10 PM (Saturday to Wednesday) and 2 PM to 11 PM (Thursday and Friday)
Tips for Travelers
Explore the park zone-wise. Enter one zone, check out all the rides and attractions and move to the next.
Try to visit during a weekday to avoid crowds. Also, arrive early in the day so that you can have maximum fun.
Best For: Families and adventure lovers
Suggested Read: Motiongate Dubai – Tips, Timings, and Rides
11. Legoland Dubai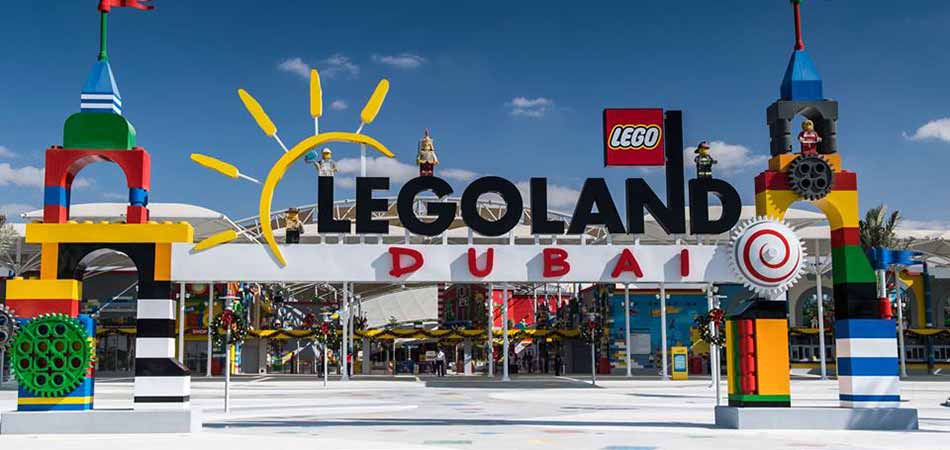 Legoland Dubai is a theme park based on the popular children's toy, Legos and is one of the three parks of Dubai Parks and Resorts. Legoland has five themed zones offering fantastic thrills and rides, which include Lego Miniland, Lego Mindstorms, Lego City, Duplo Gardens, etc. Children get to build different structures using huge Lego blocks. You would also get to see famous buildings made of Lego blocks at the park.
Timings: 11 AM to 7 PM (Saturday to Wednesday) and 10 AM to 8 PM (Thursday and Friday)
Best For: Kids under the age of 12
Suggested Read: Legoland Dubai – Ultimate Indoor Theme Park
12. Bollywood Park Dubai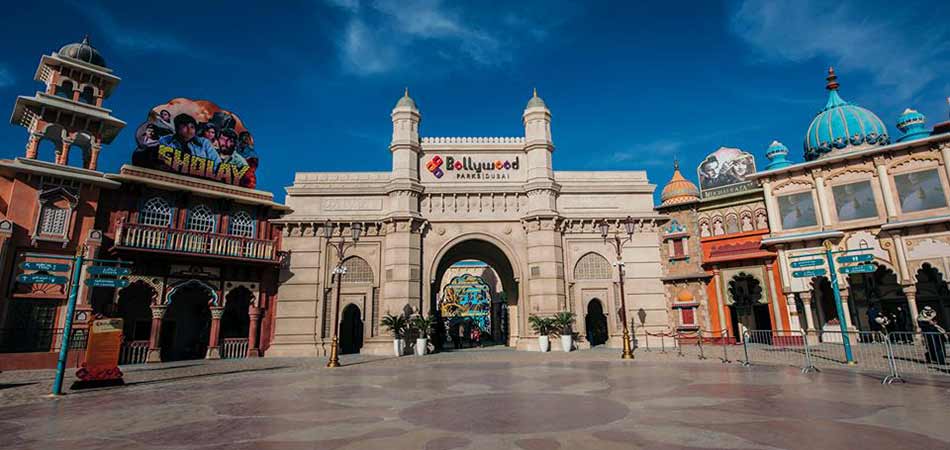 Bollywood Park Dubai offers tons of amazing rides and 30 live shows on six stages based on classic Bollywood hits. Rustic Ravine, Mumbai Chowk, Bollywood Boulevard, Bollywood Film Studio, and Royal Plaza are some of the zones you would find at the Bollywood Parks, which is also a part of Dubai Parks and Resorts. Soak your palate at fabulous themed restaurants and have the time of your life!
Timings: 3 PM to 11 PM (Saturday to Wednesday) and 3 PM to 12 AM (Thursday and Friday)
Tip for Travelers
Keep yourself hydrated by drinking plenty of water while exploring the park. The Park has several drinking fountains too. So, you do not have to carry a water bottle everywhere.
Best For: Bollywood fans
Suggested Read: Bollywood Parks Dubai – World's First Bollywood Theme Park
How to Book: Book your tickets online in advance to avail deals and discounts!
13. Riverland Dubai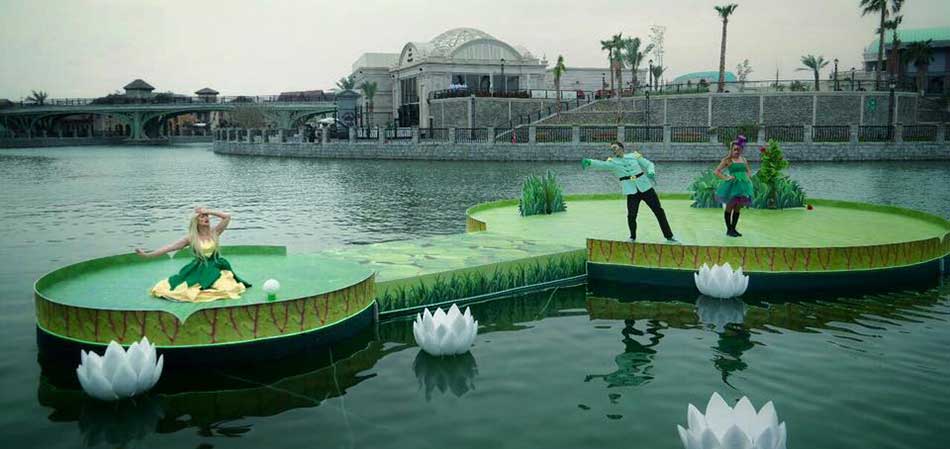 Riverland Dubai is a free theme park that takes you back in time. Located right at the outset of Dubai Parks and Resorts, it acts as an entrance to the rest of the parks. Here, you would get to enjoy the glimpses of some of the great eras of the past through The Peninsula, Broadwalk, India Gate and the French Village. The place is a fun dining and shopping destination.
Timings: 10 AM to 11 PM (Saturday to Wednesday) and 10 AM to 12 AM (Thursday and Friday)
Tips for Travelers
There are numerous dining and shopping places at each of the zones in the park
Some of the facilities available at the park include ATM, first aid station, drinking fountains, wheelchairs, lockers, and strollers.
Best For: Everyone
14. IMG Worlds Of Adventure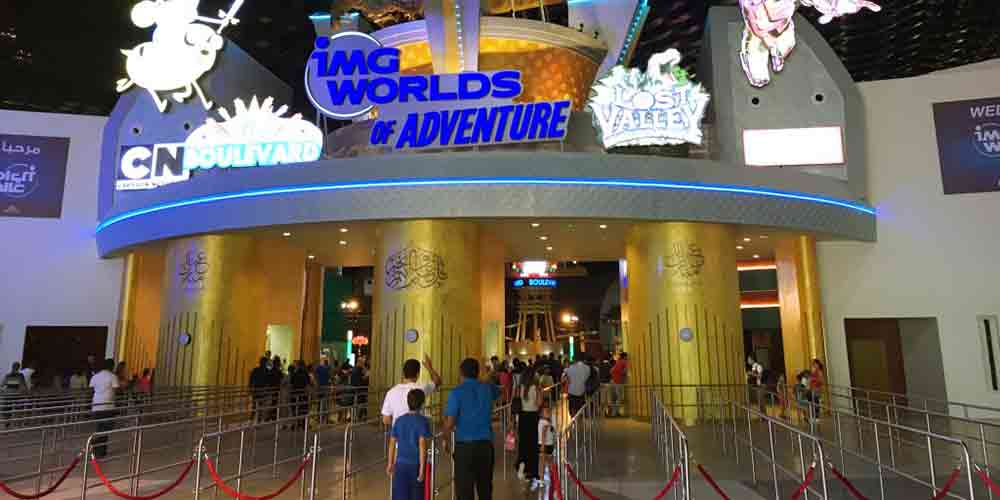 IMG Worlds of Adventure offers adrenaline-pumping attractions for all comic book fans out there! There's an interactive ride based on every comic book hero or heroine that you love, whether it's Spider-Man, The Hulk, Iron Man, Thor, and The Avengers. IMG Worlds of Adventure is an indoor theme park, covering an area in excess of 1.5 million square feet. The four epic adventure zones of this park are Cartoon Network, Marvel, IMG Boulevard and Lost Valley – Dinosaur Adventure.
Timings: 11 AM to 8 PM (Sunday to Wednesday) and 11 AM to 10 PM (Thursday and Friday)
Tips for Travelers
Most rides at the IMG Worlds of Adventure have a height restriction, except for Haunted Hotel
Arrive early to enjoy the rides and attractions without bothering about the crowds. Likewise, weekdays are better than weekends if you want to avoid crowds.
Best For: Kids, adults and adventure lovers
Suggested Read: IMG Worlds of Adventure Dubai – All You Need to Know
How to Book: Skip-the-line & book IMG Worlds of Adventure tickets online!
15. VR Park Dubai
Get ready to turn your world upside down in the world's ultimate Virtual Reality and Augmented Reality park in Dubai. Located at the one and only Dubai Mall, VR Park is a stupendous 75,000 square feet indoor theme park that spreads across two levels. VR Park combines Augmented Reality (AR) and Virtual Reality (VR) to offer 18 superb interactive experiences and rides. So get ready to escape your lives and boring routines into virtual nirvana. Gamers and non-gamers both will enjoy this incredible theme park, which offers both single-player and multiplayer routes to escape. VR Park Dubai offers various VR thrills to suit each player's taste – there are shocking horror experiences, thrills, adrenaline-jerking adventures, leisurely imaginary escapes and much more. Just leave your lives behind at the entrance and throw yourself into some of the greatest immersive experiences that'll take you away from your reality and create a technological reality that will be yours as long as you keep playing.
Timings: 10 AM to 12 AM
Tips for Travelers
Entry to the park is free but you would have to pay to enjoy the rides and attractions you like.
Children under the height of 110 cm are not allowed in any of the rides
Best For: Adults and older kids
How to Book: VR Park Dubai tickets at best prices! Book online now!!
16. Dubai Dolphinarium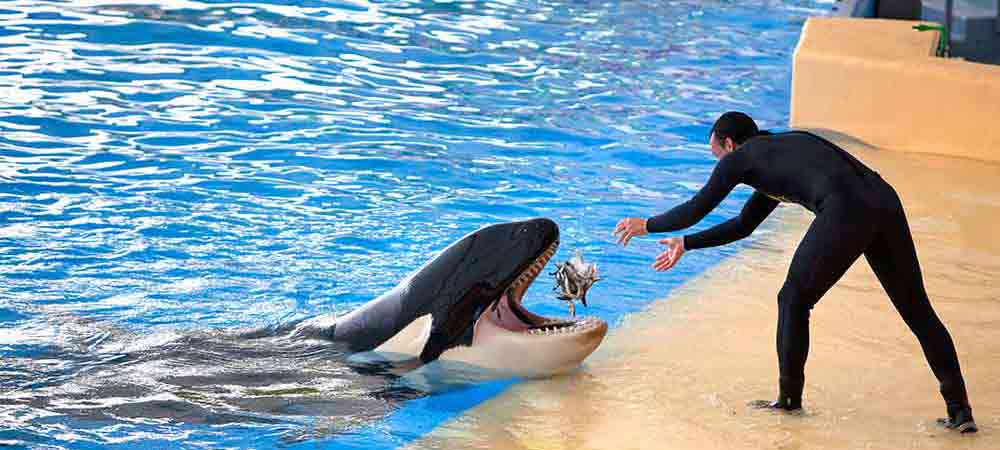 An indoor park, the Dubai Dolphinarium is home to several dolphins and seals. You not only get to see these friendly sea animals but also touch and interact with them. The dolphinarium hosts several popular shows throughout the day, and they include Dolphin and Seal Show, Swimming with Dolphins and Creek Park Exotic Bird Show.
Timings: 10 AM to 7:30 PM
Tips for Travelers
There is no entry fee for children below the age of 2 years. However, children above the age of 12 require an adult ticket.
Pets are not allowed inside the dolphinarium.
Best For: Families with children
Suggested Read: Dubai Dolphinarium – Things to do, Dolphin Shows & Tickets
17. iFly Dubai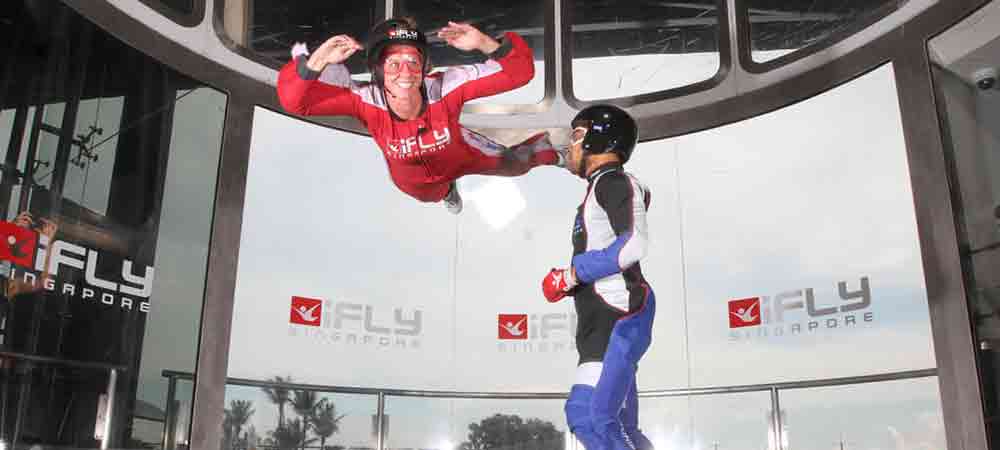 If you think you are not ready for the actual sky diving experience, go for indoor sky diving in Dubai at iFly. Here, you get to skydive inside the 10-meter wide glass tunnel where a gust of wind would help you to fly four meters above the ground. Plus, it is totally safe as you would be constantly guided by the professional present with you.
Timings: 12 PM to 10 PM (Sunday to Wednesday), Thursday (12 PM to 11 PM) and Friday and Saturday (10 AM to 11 PM)
Tips for Travelers
Apart from adults, kids above the age of 3 years can also experience flying at iFly Dubai.
Kids under the age of 18 should have written permission from their parents.
Best For: Adventure lover adults and kids
18. Dubai Garden Glow
Dubai Garden Glow is an eco-friendly theme park complete with art installations made with recyclable items and illuminated with millions of energy-efficient LED lights. This theme park is located in Dubai's Zabeel Park and has several attractions including Ice Park, Art Park, Glow Park, Dinosaur Park, Glowing Safari, Happy Forest, Happiness Street, etc. It is surely a delight for visitors.
Timings: 4 PM to 12 AM (the park remains closed during the summer months)
Tips for Travelers
Kids under the age of 3 and adults with special needs do not need an entry ticket.
You can buy the tickets online. However, the tickets to Ice Park have to buy at the venue itself.
Best For: Families and art lovers
Suggested Read: Dubai Garden Glow – Tickets, Offers & Timings
How to Book: Best offer on Dubai Garden Glow! Use coupon code & grab the deal!
19. Bounce Dubai
Kids love jumping around and Bounce Dubai is an indoor trampoline park that offers exactly that. Kids would have a fun time with activities like Jump Box Beat, Dodged ball, Kids court, Open Jump, etc. Apart from kids, older kids and even adults would have a great time jumping around the 120 interconnected trampolines, playing dodge ball, scoring the walls and even ziplining.
Timings: 9 AM to 8 PM
Tips for Travelers
Book your tickets online as the queue at the center can be long and time-consuming
Grip socks are necessary for everyone jumping on the trampolines
Only children who can walk with support can enjoy the attractions of the park.
Best For: Kids between 5 years to 14 years
20. KidZania Dubai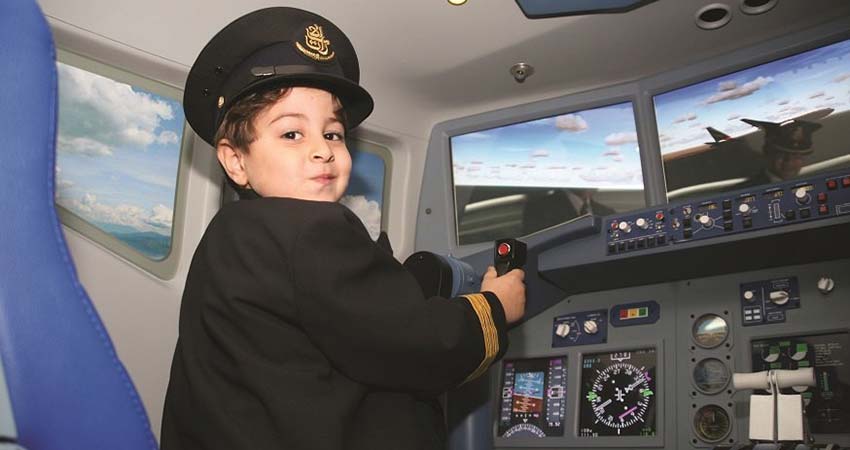 KidZania Dubai is a theme park for kids where they can learn life skills in a fun and entertaining way. They offers kids to choose from 40-role playing activities, where they can be doctors, firefighters, shopkeepers, etc. and learn about the work and how to manage money and expenses. While kids have a fun time role-playing, parents can relax in the lounge with a drink and a snack.
Timings: 10 AM to 10 PM (Sunday to Wednesday) and 10 AM to 11 PM (Thursday to Saturday)
Tips for Travelers
Parents cannot enter the activity area but have to stay in the lounge which has Wi-Fi, TV and a café.
Children can stay in KidZania as long as they want, until closing time.
Best For: Children between 4 and 16 years
Suggested Read: KidZania Dubai Mall – Kids' Edutainment Theme Park
---
21. Wild Wadi Water Park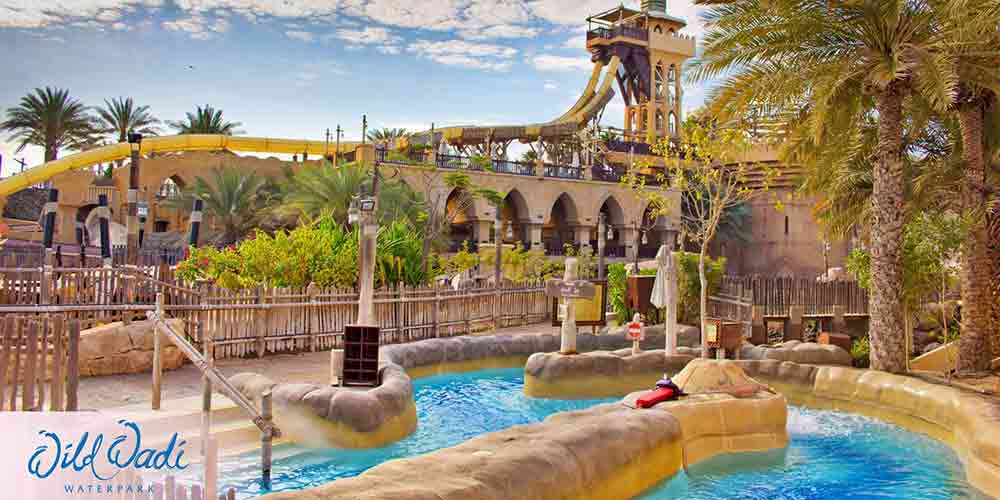 The first in the list is the Wild Wadi Water Park. This water park is located in front of Burj Al Arab and offers about 30 exciting rides for the visitors. The park houses the longest slide of the Middle East, Jumeirah Sceirah. Beaker's Bay, the biggest pool in the Middle East, is another major attraction of this water park. The theme of this park has rides inspired by the Tale of Juha, a famous character of the Arabian Folktales. The must-try rides of this water park are Tunnel of Doom, The Tantrum Alley, Juha's Dow and Lagoon and others.
Timings: 10 AM to 7 PM (Monday to Wednesday), 10 AM to 6 PM (Thursday) 10 AM to 10 PM (Friday) and 10 AM to 8 PM (Saturday)
Tips for Travelers
You can book the tickets for visiting the water park online rather than waiting in a long queue at the ticket counter.
Make sure that you and your family members stay hydrated.
Best For: Families with kids, couples and adventure lovers
22. Atlantis Aquaventure

Enjoy heart-thumping and adrenaline rushing rides at the Aquaventure Water Park at Hotel Atlantis, the Palm. Atlantis Aquaventure is the largest Dubai waterpark and offers endless activities too. Right from Shark Safari, Splasher Children's Play Area, and the Tower of Neptune to the Tower of Poseidon, there is something for every age group. The water park also has a private beach, and it is also the only beach in the UAE where alcohol is served.
Timings: 10 AM to 6 PM
Tips for Travelers
Atlantis Aquaventure is extremely strict about the dress code. Hence, make sure to adhere to them. Make sure babies are wearing swimwear diapers.
In order to keep your money safe and prevent it from getting wet, it would be best to opt for an electronic watch with enough credit. You can swipe the watch if you want to buy something. If your account has residual money at the end of the day, it would be reverted to you.
Best for: Kids, adults, and couples
Suggested Read: Atlantis Aquaventure Dubai – Marine Activities, Water Slides & Beach Fun
23. Legoland Waterpark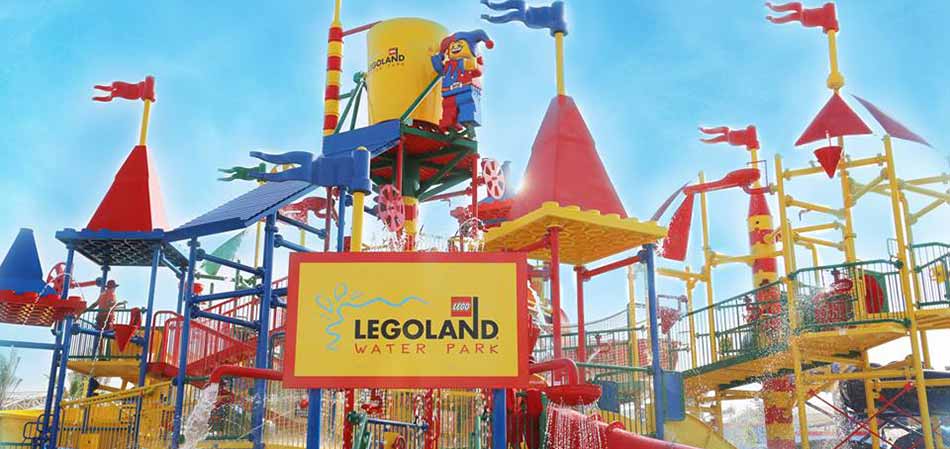 Legoland Water park , Dubai Parks, and Resorts. The park has 20 water slides, a family raft and a body and tube slide all made of Legos. Let your kids splash about in the huge Lego Wave Pool and build a raft using custom Lego bricks. Toddlers will love the slides and rides in the DUPLO® toddler play area. Let your kids enjoy eating at the two Lego-themed restaurants and lie around under Lego cabanas to rest.
Timings: 11 AM to 7 PM (Saturday to Wednesday) and 10 AM to 8 PM (Thursday and Friday)
Tips for Travelers
Weekdays are best to visit the waterpark as it can get really crowded during the weekends.
You cannot get any outside food inside the park. However, exceptions are made for baby food.
Best For: Kids under the age of 12
Suggested Read: Legoland Water park Dubai – Timings, Tickets, and Rides
24. Laguna Water Park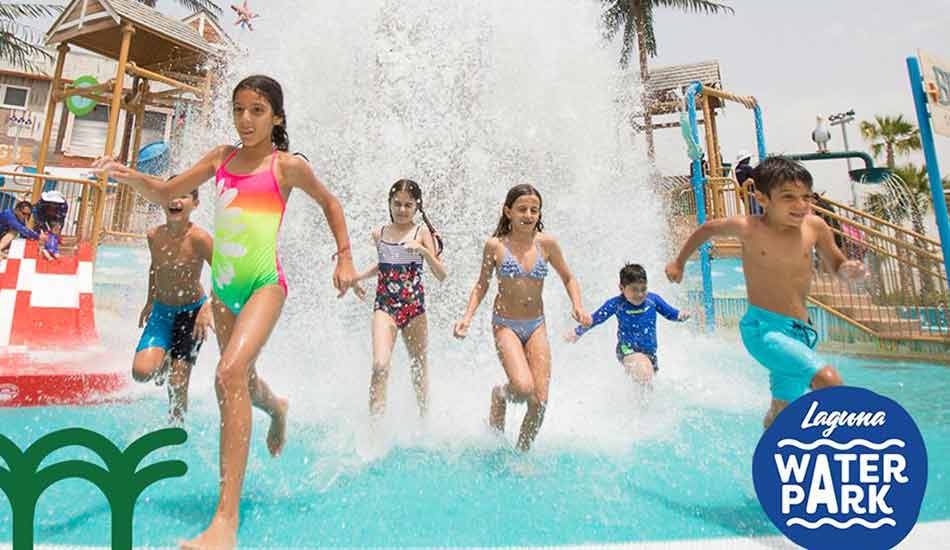 Laguna Water park is located at La Mer, Dubai's coolest beachfront destination. This waterpark in Dubai opens up to great views of the Dubai Skyline and the ocean. It's a carefree seaside paradise, just perfect for hours of fun with family and friends. Laguna Waterpark offers something for everyone – a unique Lazy River where water rains down on you as your boat; a superb manmade surfing experience on WaveOz180, one of the three in the world; free-fall slides that are guaranteed to make you scream in adrenaline-fueled joy. It's the perfect place to enjoy fabulous rides, the ocean, the cool water and endless thrills in the company of family and friends. If you would rather just chill and watch the others go nuts over the many adventurous rides, just lay back on the lounge chairs in the cabanas and sip on something cool. There's something at Laguna Waterpark for thrill-seekers and chill-seekers alike.
Timings: 10 AM to 6 PM
Tips for Travelers
Weekdays are the best time to visit the park as it is less crowded as compared to weekends
Arrive early and ride on the popular rides and slides first, as the lines would be longer during the later part of the day.
Book your tickets online to avoid long lines at the ticket counter.
Best For: Families
Suggested Read: Laguna Waterpark Dubai – All You Need to Know
How to Book: Laguna Water Park tickets online NOW! Click to book!
---
25. Dubai Desert Safari
No trip to Dubai is complete without experiencing the Dubai Desert Safari. The adrenaline rush of a 4×4 safari jeep, speedy mountain bike and camel rides in the majestic Dubai desert are experiences that go with you a long way. If you have some extra time during your desert safari, you can go for enthralling sandboarding, have the henna tattoo done and enjoy a wonderful BBQ dinner in the evening desert camps. Almost every reputed tour operator offers a pick-up and drop facility for your desert safari.
Timings: 3:30 PM to 9:30 PM (evening desert safari)
Tips for Travelers
Wear comfortable, cotton clothes while on the desert safari. But do not forget to carry a jacket or shawl as it can get chillier at night.
Listen and follow the instructions provided by the instructors before trying any of the adventure sports at the desert camp.
Best For: Families with older children, couples on honeymoon and group of friends
Also Read: The Ultimate Guide to Finding the Best Desert Safari Dubai
How to Book: Best Deals on Tickets for Desert Safari Dubai! Check with Umair Travels